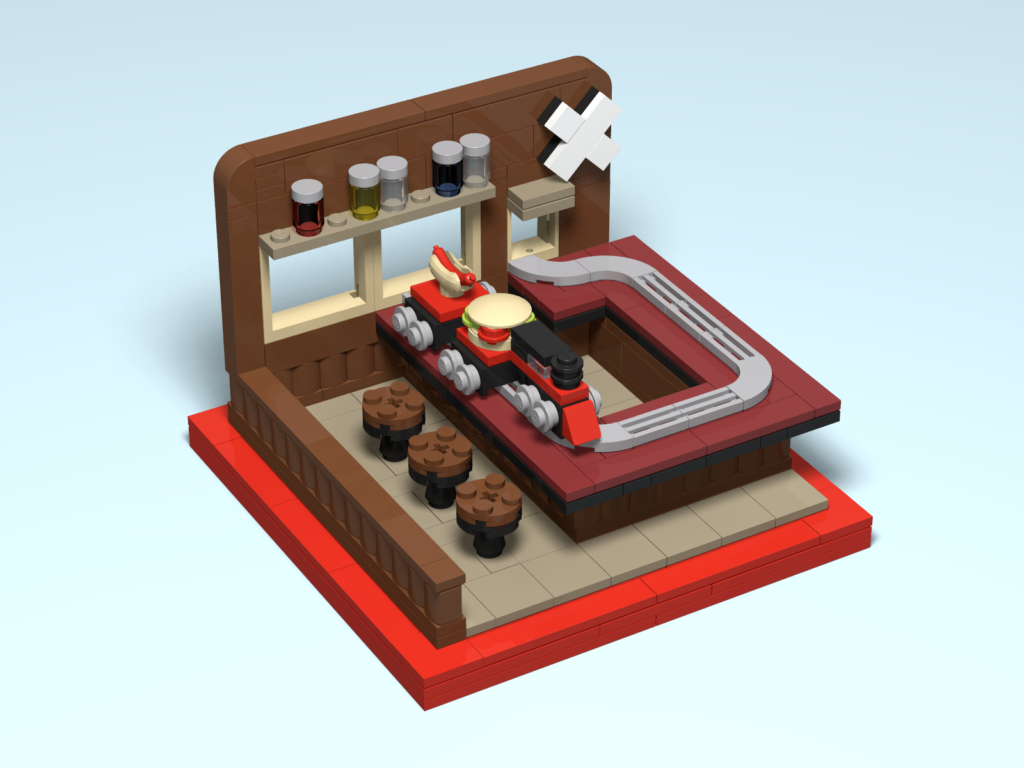 A custom Lego version of the popular PC Junction family restaurant in Bailey's Harbor, Door County.
About this design
This project has been in the concept phase for awhile now. But like others before it, the challenge was working with the smaller scale of our projects.
Yet, with multiple requests for PC Junction, we decided to dive in and give it a shot.
The primary focus point for this design was obviously the train and the track. At first, we didn't think we had enough space for a complete loop from the kitchen and back. But after seeing how things looked with just track terminating into an empty space, we knew we had to close the loop.
From there, it was trying to get the train cars to match the engine. As shown in the design render, they don't exactly line up. As we end up building out this project, we may make minor adjustments, but for now, this is what it is.
Finishing off the design was the wall with the windows to the kitchen and back. And to fill out the space behind the stools, we added a lower wall modeled after previous projects.
The good news is that, with this current layout, we should still be able to fit in one Lego minifigure insight the loop still. And with our Lego family seated for a great meal, this should be a fun project in the end.
Project status: Not started
As of yet, this project has not yet started. We're in the process of finishing a few more designs and enjoying the last bit of summer vacation before we get back into ordering parts.
As soon as we get parts ordered, this project is first to get started.