Design – Drive-in Theatre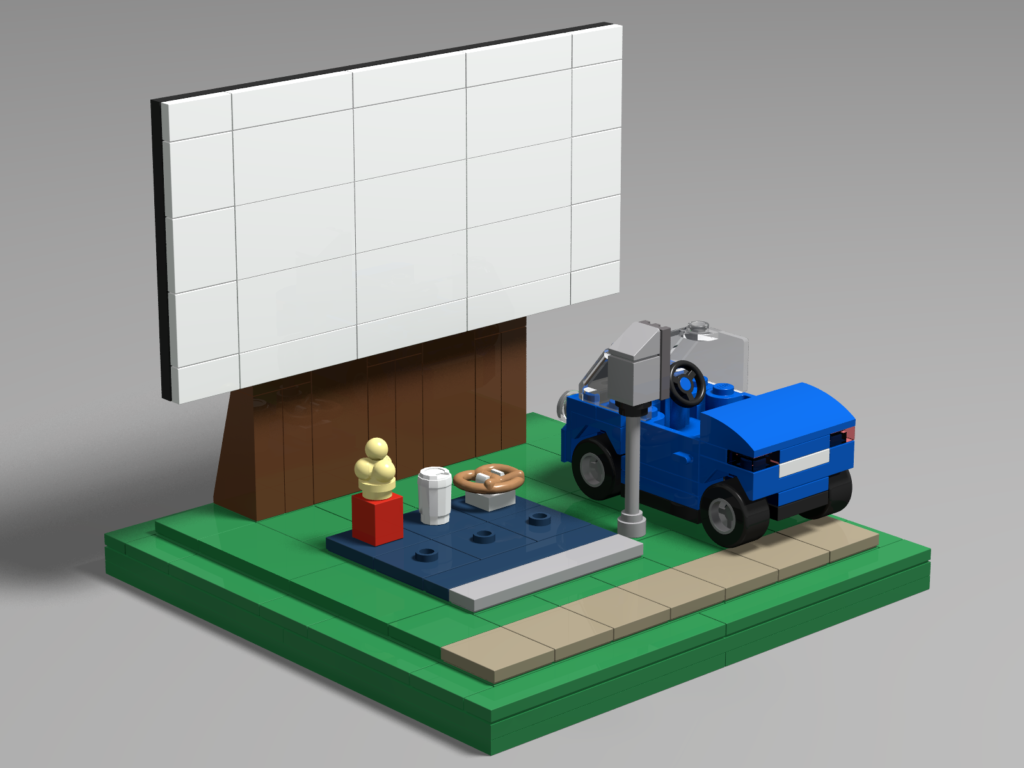 Custom Lego design of the Skyway Drive-in Theatre in Fish Creek, Door County.
About the design
Not everyone remembers seeing a movie at a drive-in theatre any more. But fans of Door County will at least remember driving by the Skyway Drive-in when leaving Fish Creek heading towards Ephraim.
We've been lucky enough to see two different movies at the drive-in during our summer vacations in Door County. So, we decided to recreate the drive in as one of our 36 projects.
As with the Cana Island Lighthouse design, our standard 16×16 plate format was going to restrict what we could and couldn't do. That said, being able to fit a screen as large we we did and include a car was pretty cool.
There were two more things with this design that didn't carry over into the final project when we built it. The first was the car. Papa is definitely a car designer when it comes to Lego. This was a fair attempt, but for the final version, we went an official Lego car that Christian had from a previous purchase.
The other part of this design that didn't work out was the sleeping bag. The purpose was to have a space for our minifigure family to lay down and watch the movie. The challenge with the design was that the area was too small for 3 minifigures. So some last minute changes to make that area better did the trick.
Project status: Completed
The drive-in theatre project has been completed, and we'll have photos posted soon.
With the final project using an official Lego car set, the rest of this project went pretty quick. The screen came out really cool, too. Now, if we can come up with a design to show a movie scene on the screen, that would be awesome.