Design – Blue Horse Beach Cafe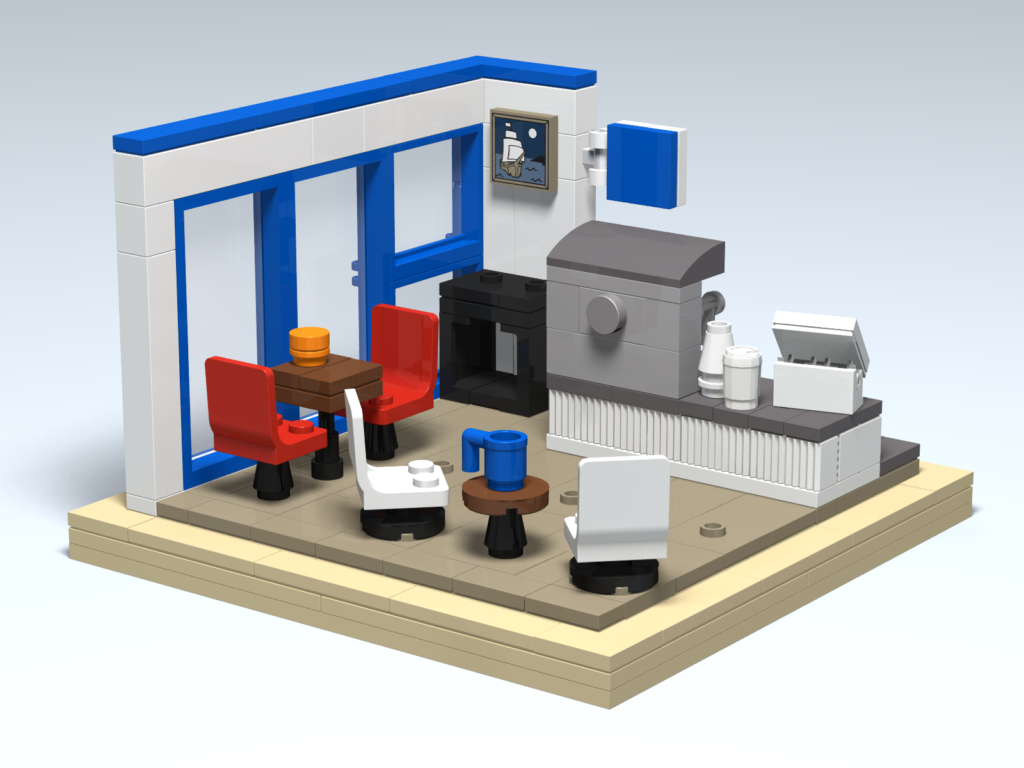 Our Lego version of the Blue Horse Beach Cafe in the heart of Fish Creek.
About this design
If we're on the bay side on any given mid-afternoon in Door County, we're stopping at Blue Horse Beach Cafe. Like our pizza tradition, this is another one that goes back to our very first visit over ten years ago.
One of the great things about Blue Horse is the enclosed porch seating and the view of the water across the street. But that was also one of the hardest parts to incorporate in our design you see here. Were we to make a larger version of this project, we'd definitely give more space that seating area alone.
That said, we still kept those gorgeous windows and a small table as part of our design. And while we were handling the seating, we add those comfy white seats in the center of the cafe as well.
What that left us with was trying to fit in the counter and the barista bar. Before we added the window seating, we had plans to include the pastry case in between the counter and the bar. But because of our size constraints, that had to go.
Lastly, we made one more tough design decision that might not make the final build when we get the parts to complete this project. In the design render above, the barista bar and the register are actually reversed from the actual Blue Horse. We initially had the barista bar on the right, but that made the balance of the entire design feel a little off.
Once we get to build this project, however, we're planning on trying both arrangements to see what works best. In this case, only time will tell.
Project status: Completed
We're totally thrilled to report that this project has recently been completed. You can view photos and read more about the project in the Blue Horse Beach Cafe project post.
And just like our family in real life, our Lego minifigure family is excited to have their mid-afternoon coffee fix to enjoy the rest of their evening in Door County.