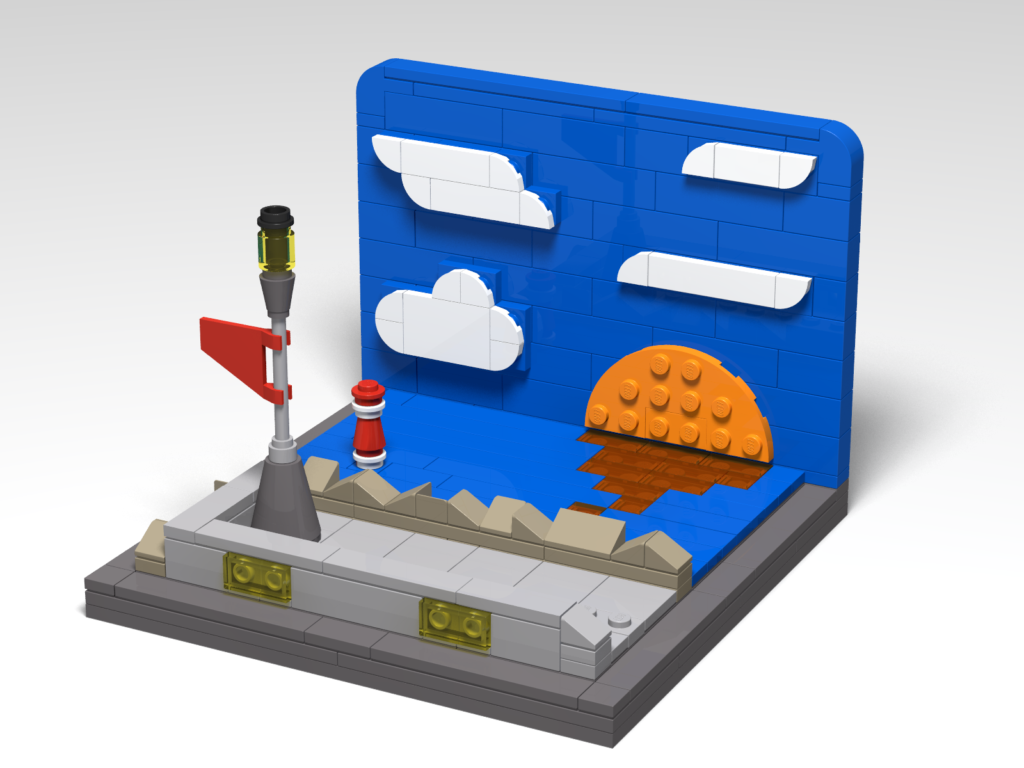 A Lego design to reflect the beauty of a Door County sunset at the popular Egg Harbor Marina.
About the design
We've enjoyed walks along the Egg Harbor Marina since was back when Christian was still in a stroller. So those memories are what put this design high up on our project list.
It was the sun and the reflection in the water, however, that became the starting point for this one. We saw a much larger project on Pinterest that fully reflected sunset and transparent water, so we wanted to try it on a much smaller scale.
From there, we chose to use the same background design as the night sky in our Stargazing design for our marina sunset. With the extra space in the sunset sky, we thought it would be need to add a few clouds to bring life to the scene. That turned out to be a great design decision.
The actual marina design itself came together nicely, too. Recreating the concrete walkway and the rock wall along the water was just as fun as creating the water itself.  Lastly, we added a fun little buoy (and later a seagull) to finish off the space in the water, too.
Project status: Completed
It was hard to wait very long to build this project, so the Egg Harbor marina sunset project is already completed.
Having it so close to the base design as the Stargazing project made fun, too. Sine we knew what to expect with similar parts, we knew very early we'd be happy with the final result.
To see the fun photos of how this project turned out, check out the completed Marina Sunset project post.