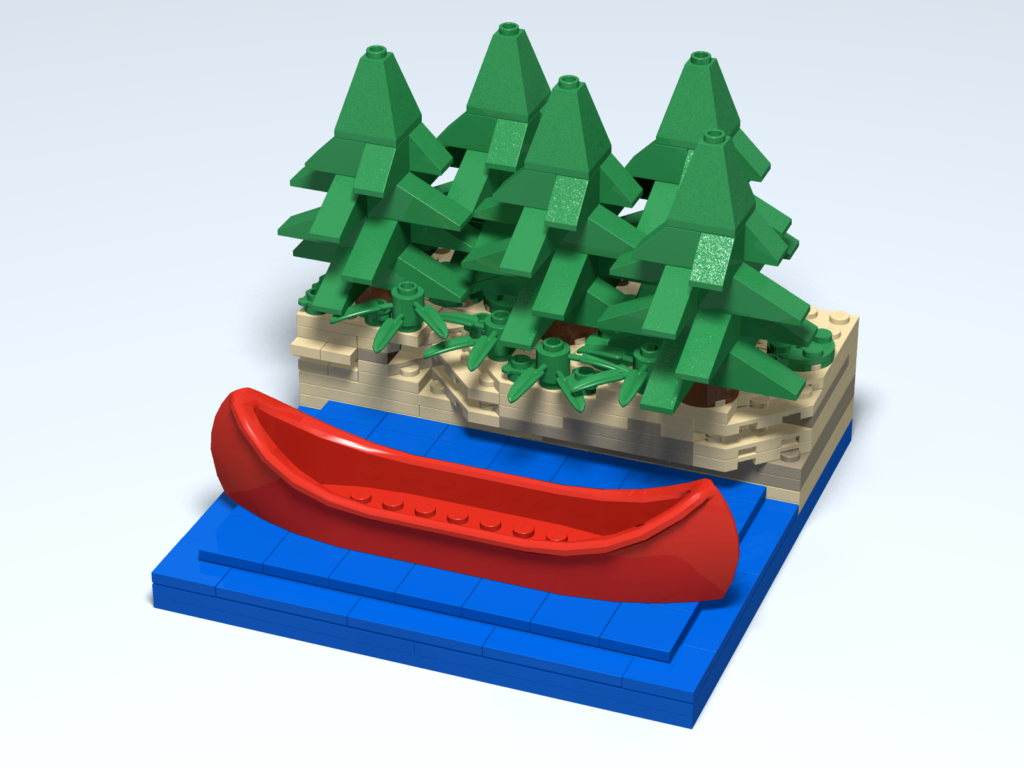 A Lego interpretation of kayaking along the scenic Door County bluffs on the bay side of the peninsula.
About the design
This design was inspired by some of the amazing views we've seen featured by Door County Kayak Tours, among others.
First things first, we know that's a canoe and not a kayak. While not featured in the design render, we chose a larger canoe so our Lego minifigure family could fit in altogether. That's just how Lego goes sometimes, so you just roll with it.  Or, in this case, row with it. 🙂
With the canoe selected, our next design task were the bluffs themselves. Their irregular shape and color made it a great fit for some plate wedges and a mix of tan and dark tan colors. While we probably could have gone a little higher with the bluffs, we had to make room for the final design element.
And that would be the trees. There are many, many ways to do trees with Lego bricks. You can find the official Lego parts, like we did in the Lavender Field project. Or you can go with a more tree trunk and leave approach, like we did with the Hiking Trail project.
But for this, we wanted to go with a more evergreen tree look, to match what you would find on those Door County bluffs while kayaking. So from there, we tried out a few designs we found online and our own updates.
In the end, we have something that looks like a Lego Xmas tree you'd see in some of the holiday sets. Minus the ornaments and lights, of course. And honestly, we're okay with that. It seems like they're a lot of greenery in this one, and we can't wait to get in the parts to see how it looks when we build it.
Project status: Completed
After a slight ordering mixup, this project is now completed. You can view photos of the finished project in the Kayaking project post.
As predicted, the finished project with our Lego minifigure family in the scene is the icing on the cake and really brings this one together.